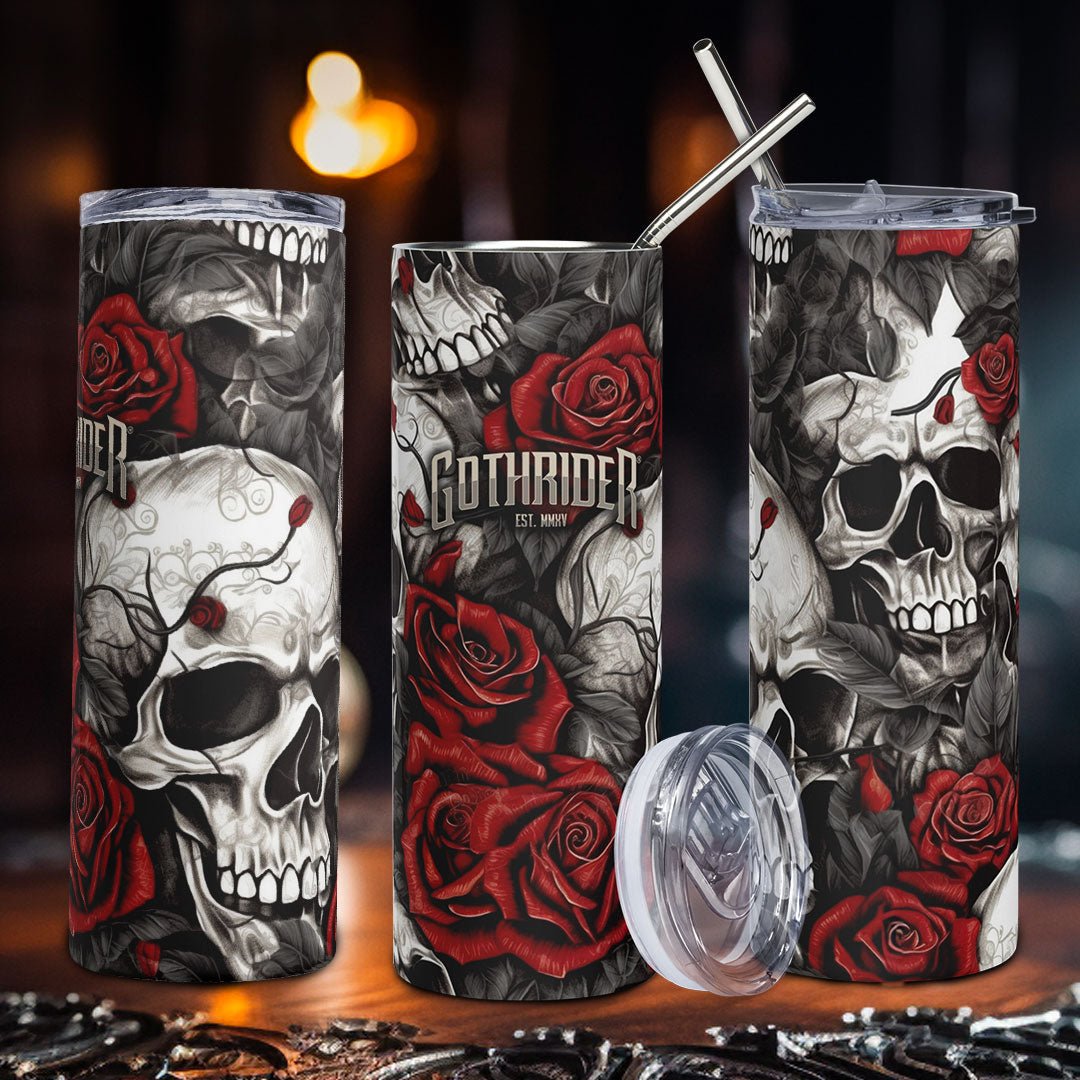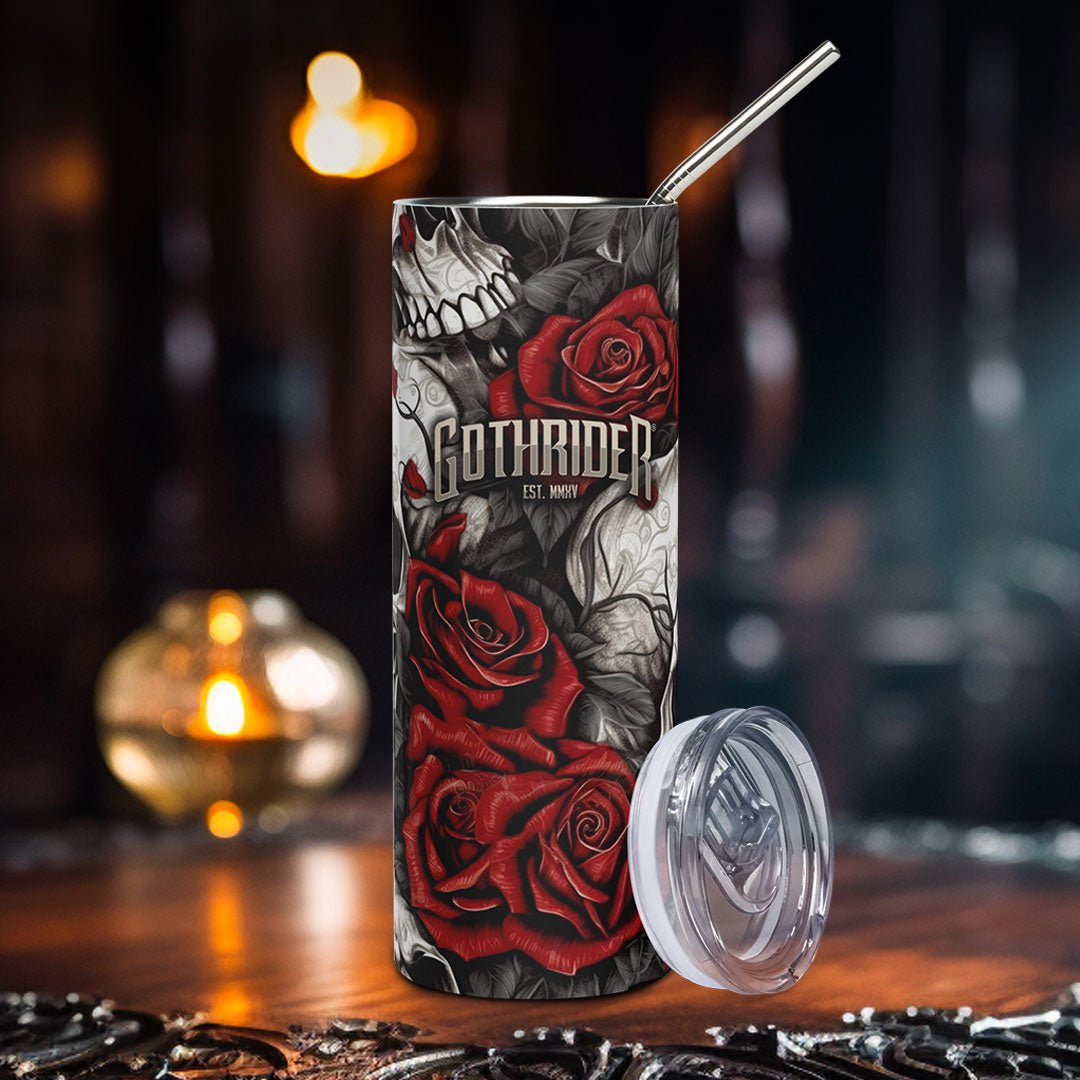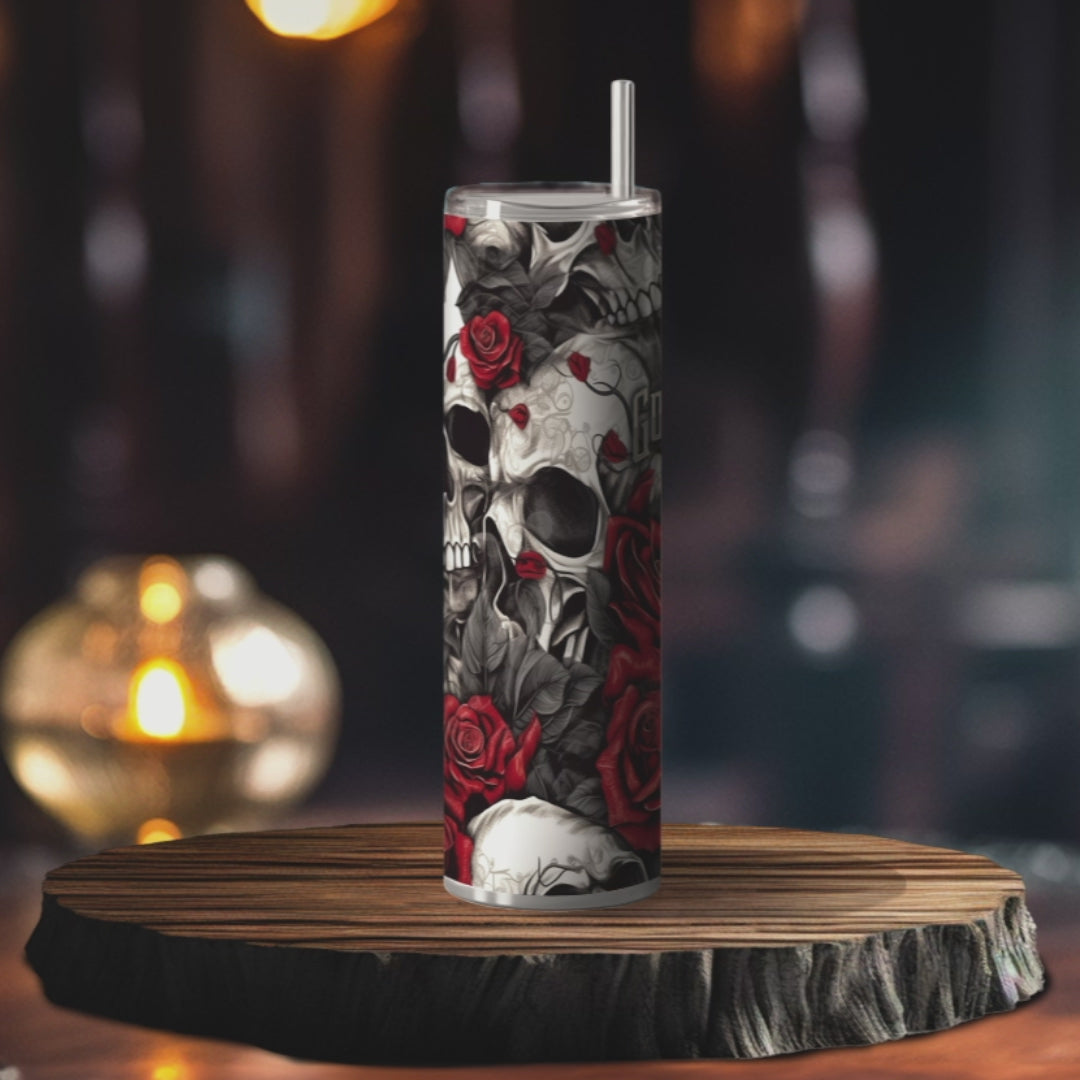 Skulls & Roses Skinny Tumbler
---
Introducing the all-new Skulls & Roses Skinny Tumbler 20 oz, a must-have companion for those who appreciate a touch of gothic elegance. Whether you're heading out for a picnic, embarking on a day trip, going on holiday, or engaging in any outdoor activity, this tumbler is designed to enhance your drinking experience while showcasing your unique style.

The GothRider® 20oz tumbler is meticulously crafted to provide functionality and durability. It features a sleek and slender design, perfect for a comfortable grip and easy handling on the go. The tumbler comes complete with a removable plastic lid that effortlessly slides closed, ensuring spill-free transportation and maintaining the temperature of your favorite beverages.

No ordinary tumbler, this Skulls & Roses edition adds a touch of edgy charm to your drinking routine. The eye-catching design showcases intricately detailed skulls and delicate roses, striking a perfect balance between dark aesthetics and elegant beauty. It's an ideal accessory for those who embrace their inner goth and appreciate the allure of contrasting elements.

Versatility is key with this tumbler. It is suitable for both cold and hot drinks, allowing you to enjoy refreshing iced beverages or piping hot coffee or tea. The 20 oz capacity ensures you have plenty of room for your desired drink, whether it's a revitalizing smoothie or a comforting hot chocolate.

In addition to its exceptional design and versatility, this tumbler is also environmentally friendly. It comes with a stainless steel straw, allowing you to enjoy your beverages sustainably while reducing single-use plastic waste. The metal straw is both durable and reusable, making it an eco-conscious choice for those who strive to make a positive impact on the planet.

Upgrade your drinking experience and make a bold statement with the Skulls & Roses Skinny Tumbler 20 oz. Embrace the fusion of gothic aesthetics and practical functionality, all while sipping your favorite beverages in style. Get ready to turn heads and enjoy your drinks with an extra touch of dark elegance.