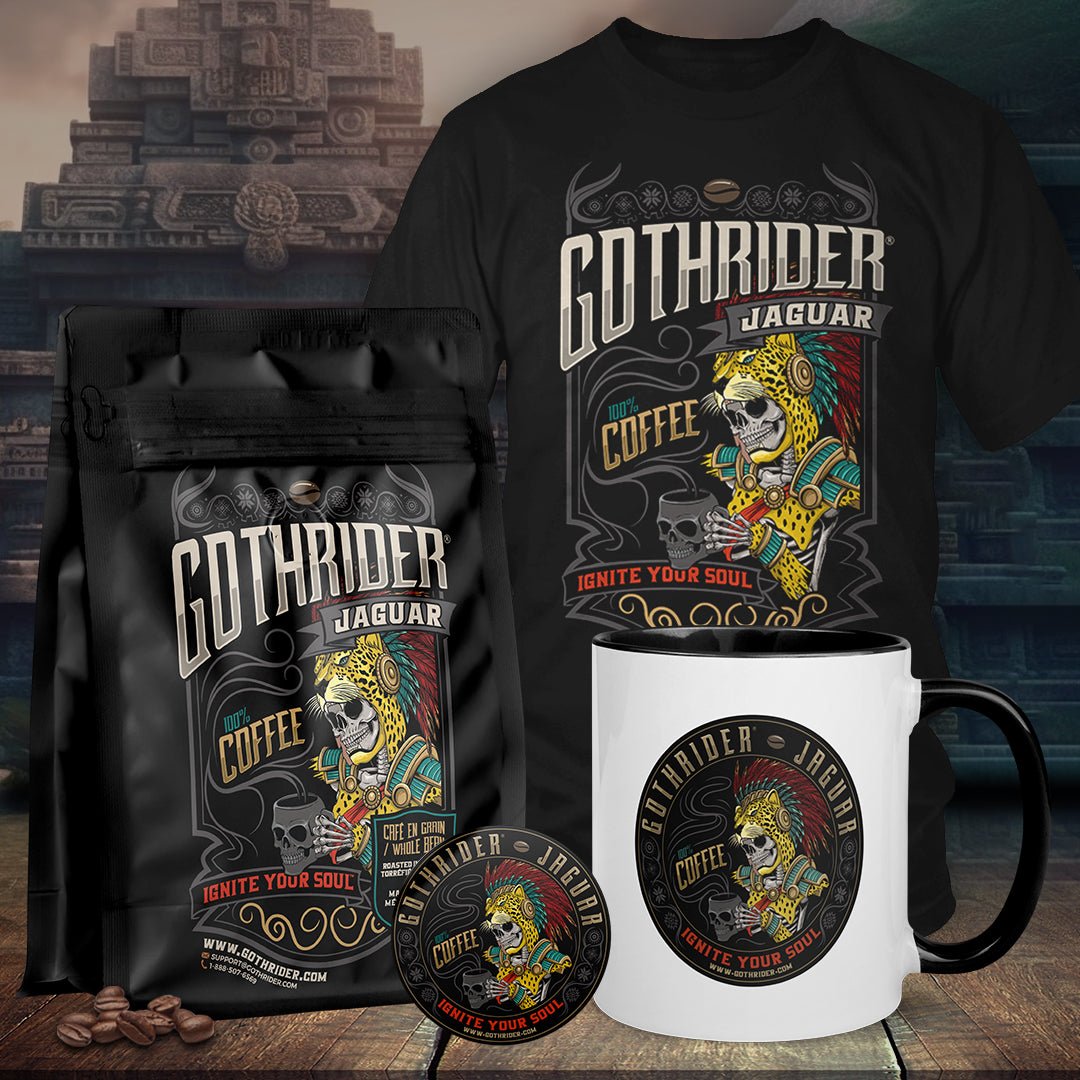 Jaguar Coffee Starter Kit
---
*** Available In Limited Quantity ***
This bundle includes
👉 1 Bag of Jaguar Coffee of your choice (12 oz bag)
👉 1 Jaguar™ Coffee Limited Edition Mug
👉 1 Jaguar™ CoffeeLimited Edition T-Shirt
👉 1 Jaguar™ CoffeeLimited Edition Sticker
👉 Expedited Shipping


Introducing our new coffee blend, the GothRider® Jaguar™ Coffee! Sourced from the high-altitude Chiapas region in Mexico, this unique arabica bean variety delivers an exceptional taste experience with a perfect balance of flavors.
Our master roaster has carefully selected only the finest Chiapas Bourbon Arabica beans, grown at 800m to 1000m altitude, to create a rich and flavorful brew. With notes of almond, honey, pepper and a little touch of acidity, this blend is perfect for coffee lovers who seek a bold and distinctive taste.
At GothRider® Coffee Company, we are committed to ethical sourcing and sustainable farming practices. Our Jaguar™ coffee is sourced directly from local farmers who share our passion for quality and taste.
✅ High Quality: We only source the finest Chiapas Bourbon arabica beans.
✅ Artisanal Roasting: Our coffee is slow-roasted using the traditional Italian method.
✅ Roast: Medium-Dark
✅ Amazing Taste Profile: Balanced, with notes almond, honey, pepper and little touch of acidity.
Experience the unique taste of GothRider® Jaguar™ Coffee and start your day like a warrior.