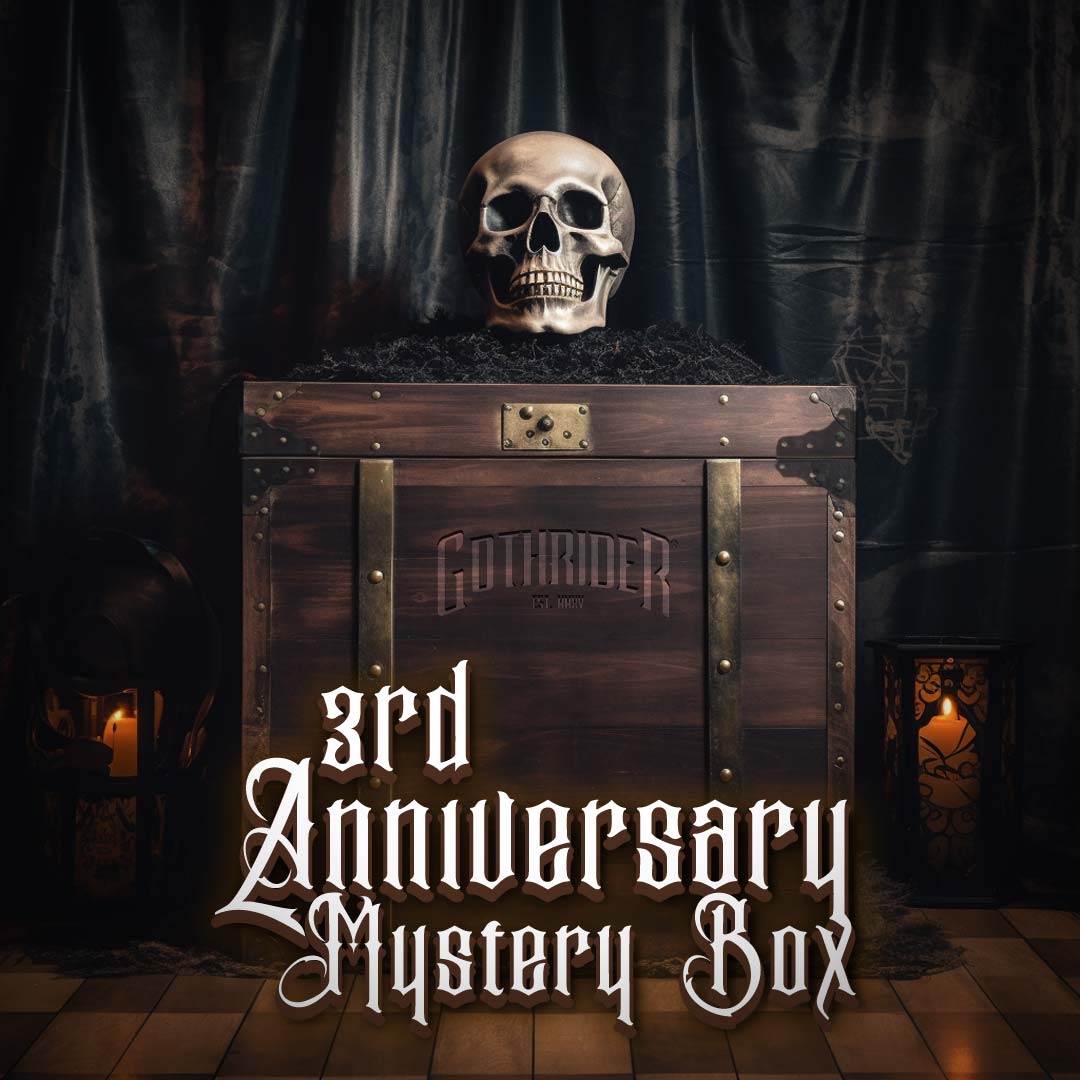 3rd Anniversary Mystery Box
---
It's time to celebrate the 3rd anniversary of the GothRider Coffee Brand in style! Are you looking for an extraordinary and unique gift, or perhaps you want to treat yourself to something special? Look no further than the GothRider Mystery Box - the ultimate surprise-packed present!
Each Mystery Box is jam-packed with an exclusive and never-before-seen new T-Shirt Design, making it a truly one-of-a-kind gift that is sure to delight anyone. And to make this anniversary even more special, we're offering free shipping on all Mystery Box orders!
But what exactly is inside the box? It's a mystery - a $169.99 USD value, now 60% off, and we can't even share publicly what's included!
But we can tell you that it features
👉 1x 12oz bag of your favorite GothRider coffee
👉 1x exclusive GothRider t-shirt that's never been sold before
👉 1x GothRider Collection mug
👉 1x GothRider Novelty mug
🔥 and one extra random gift that could be a hat, sticker, mug, or random accessory - whatever we have left in stock!
🚚 FREE SHIPPING

So let's celebrate this milestone together with the GothRider Mystery Box. Please note that the contents of each Mystery Box are assorted, so we can't guarantee any particular styles or designs. Multiple orders may contain the same products, and the Mystery Box is a final sale with no returns or exchanges. But with free shipping available in the United States and Canada, there's no better time to indulge in the excitement of the GothRider brand. So come and join the party!  The shipping box (the chest) is not as pictured (for illustrative purposes only & not included). Mystery Box is $99 USD ($169.99 USD retail value) / $129.99 CAD ($229.99 CAD retail value).