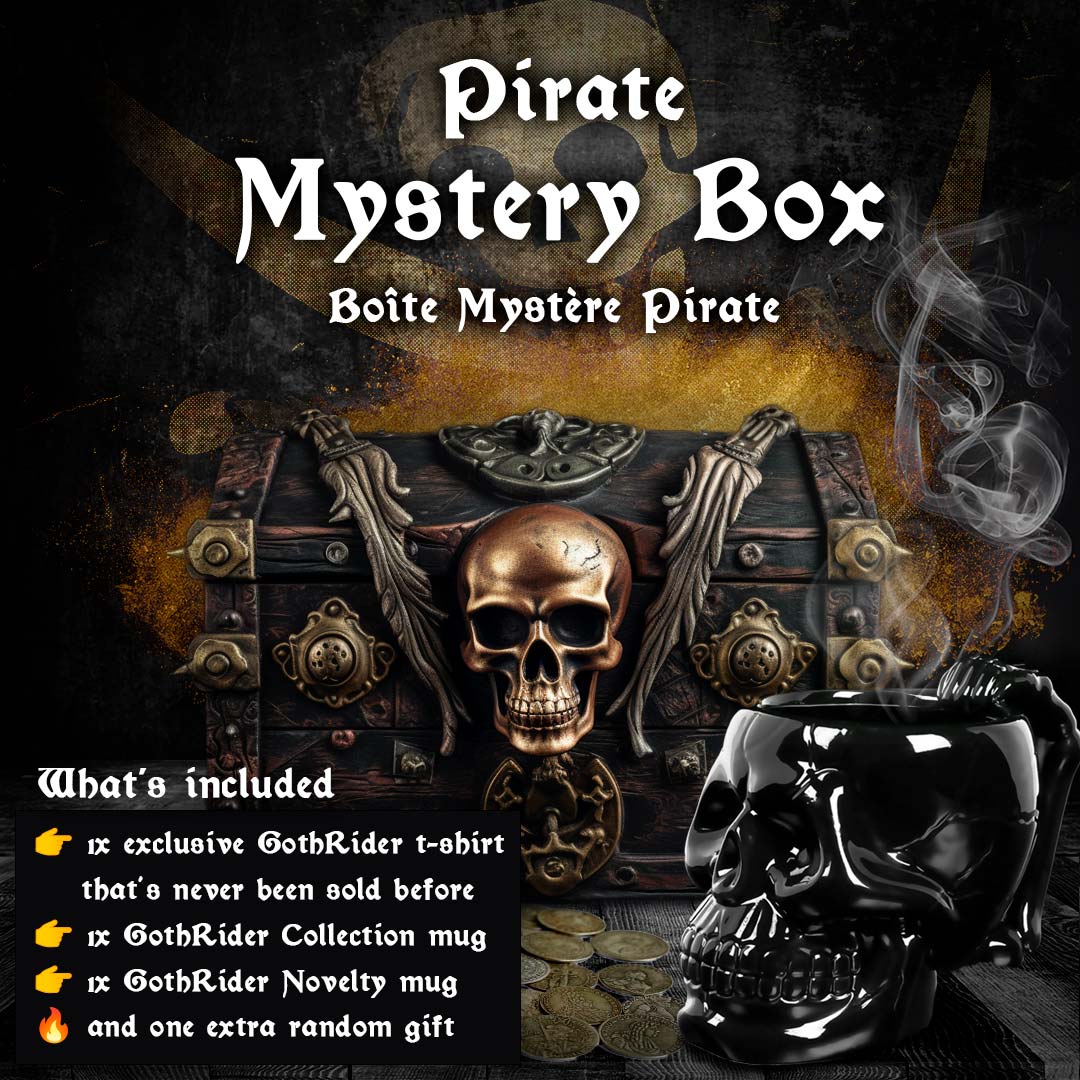 Pirate Mystery Box
---
Ahoy, adventurers and seekers of the unknown! Introducing the Pirate Mystery Box by GothRider—an exclusive treasure trove that beckons you to embark on an exhilarating voyage into the depths of enigma and intrigue. Prepare to be captivated by a collection of hidden wonders, meticulously curated to satisfy your craving for excitement and curiosity.
Unlock the box, and reveal a carefully guarded secret—a treasure valued at $169.99 USD, now available at a remarkable 60% discount! As guardians of suspense, we shall keep the exact contents concealed, but we guarantee an experience that will leave you spellbound and thirsting for more.
At the heart of this extraordinary offering, discover the exclusive GothRider Pirate-themed T-Shirt—a symbol of individuality and style that resonates with your adventurous spirit. Each design is crafted to ignite conversations and reflect your unique persona, making a bold statement wherever you venture.
Beyond the coveted T-Shirt, the Pirate Mystery Box is brimming with captivating surprises, meticulously chosen to enhance your pirate aesthetic and elevate your daily escapades. Uncover a selection of accessories that exude the aura of mystery and dark elegance, perfectly complementing your enigmatic charm.
Raise your tankard and sip in style with the striking GothRider Collection mug, radiating an aura of dark passion that suits your taste for the extraordinary. But as the shadows deepen, the Mystery Box has yet another enchanting surprise—an exclusive novelty mug that will bewitch your coffee breaks and become a treasured centerpiece in your collection.
But avast, me hearties, there's more to this adventure! Each Pirate Mystery Box conceals an additional random gift, handpicked from our remaining stock to keep the thrill alive. Whether it's an edgy hat to accentuate your unique style, a mesmerizing sticker to transform any surface into a work of art, or an intriguing accessory to spark admiration and intrigue, these surprises are designed to leave you yearning for the next revelation.
Embrace the enigma, seize the mystery, and step into a world where extraordinary treasures await. The Pirate Mystery Box by GothRider is your gateway to the untamed, an opportunity to unleash your inner explorer and immerse yourself in the allure of the dark and mysterious. Set sail now and surrender to the anticipation that accompanies the unveiling of secrets concealed within each box. The high seas of adventure await—order your Pirate Mystery Box today!

But we can tell you that it feature
👉 1x exclusive GothRider t-shirt that's never been sold before
👉 1x GothRider Collection mug
👉 1x GothRider Novelty mug
🔥 and one extra random gift that could be a hat, sticker, mug, or random accessory - whatever we have left in stock!

*Please note that the contents of each Pirate Mystery Box are assorted, so we can't guarantee any particular styles or designs. Multiple orders may contain the same products, and the Pirate Mystery Box is a final sale with no returns or exchanges. The shipping box (the chest) is not as pictured (for illustrative purposes only & not included). Mystery Box is $99 USD ($169.99 USD retail value) / $129.99 CAD ($229.99 CAD retail value).