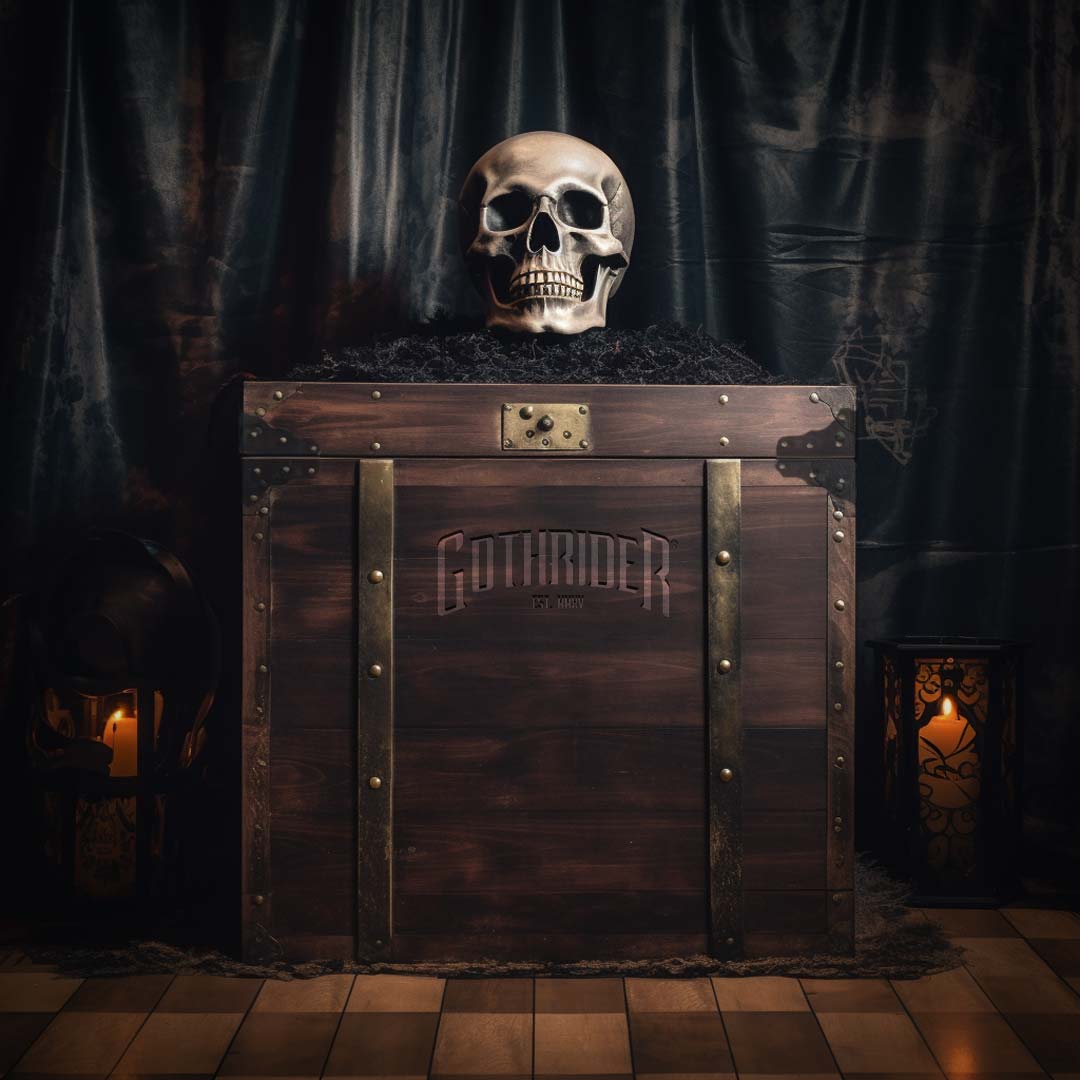 GothRider Mystery Box
---
Introducing the Mystery Box Of The Month by GothRider—an invitation to immerse yourself in a realm of endless surprises and captivating enigmas. Prepare to embark on a thrilling adventure as you unveil a curated collection of wonders, meticulously crafted to ignite your curiosity and delight your senses.
Unlock the box and unleash the allure of the unknown, where each monthly edition holds a carefully guarded secret, a treasure trove valued at $169.99 USD, now available at an incredible 60% off! As sworn custodians of suspense, we're bound to keep the exact contents under lock and key. However, we guarantee an experience that will leave you spellbound and craving for more.
At the heart of this extraordinary offering lies the exclusive GothRider T-Shirt—a true symbol of individuality and style. Immerse yourself in the allure of never-before-seen designs, meticulously crafted to reflect your unique persona and ignite conversations wherever you go.
Beyond the coveted T-Shirt, the Monthly Mystery Box brims with captivating surprises, carefully curated to enhance your gothic aesthetic and elevate your everyday experiences. Uncover a selection of accessories, handpicked to add a touch of mystique and dark elegance to your ensemble.
Sip in style with the striking GothRider Collection mug, exuding an aura of dark passion that complements your taste for the extraordinary. As shadows deepen, the Mystery Box reveals a novelty mug, weaving an enchanting spell during your coffee breaks and becoming a bewitching centerpiece in your collection.
But the adventure doesn't end there—each box conceals an additional random gift, meticulously chosen from our remaining stock. Whether it's an edgy hat that accentuates your unique style, a mesmerizing sticker that transforms any surface into a work of art, or an intriguing accessory that sparks intrigue and admiration, these surprises are designed to leave you craving for more.
To heighten your excitement, we're thrilled to offer free shipping on all Mystery Box orders, ensuring a seamless journey from the unknown to your doorstep.
Embrace the enigma, seize the mystery, and step into a world where extraordinary treasures await. The Monthly Mystery Box by GothRider is your gateway to the untamed, an opportunity to unleash your inner explorer and immerse yourself in the allure of the dark. Order now and surrender to the anticipation that accompanies the unveiling of secrets concealed within each box.
But we can tell you that it feature
👉 1x exclusive GothRider t-shirt that's never been sold before
👉 1x GothRider Collection mug
👉 1x GothRider Novelty mug
🔥 and one extra random gift that could be a hat, sticker, mug, or random accessory - whatever we have left in stock!

*Please note that the contents of each Mystery Box are assorted, so we can't guarantee any particular styles or designs. Multiple orders may contain the same products, and the Mystery Box is a final sale with no returns or exchanges. But with free shipping available in the United States and Canada, there's no better time to indulge in the excitement of the GothRider brand. So come and join the party!  The shipping box (the chest) is not as pictured (for illustrative purposes only & not included). Mystery Box is $99 USD ($169.99 USD retail value) / $129.99 CAD ($229.99 CAD retail value).